Give the seal a name!
If you know a little about us, you might have noticed that there is an animal that appears frequently in our content: Our Seal! The Seal has been at Smile and Learn since its creation, and like all of us who are a part of this platform, it has also grown and evolved without losing its essence. Now, after many adventures, the moment has come to take another step forward. Our Seal deserves to have a name! One that reflects its personality and can be used to talk about it in any part of the world.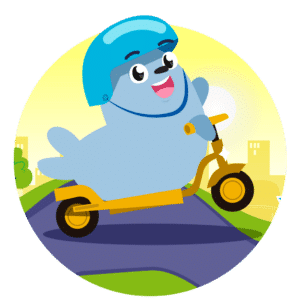 That is why we have launched this contest! It's an initiative where we encourage you to give the Seal a name. The winner will receive 200€, a fantastic kit from Smile and Learn and one year of free access to our platform. In addition, two finalists will receive a kit from Smile and Learn.
Maybe you're asking yourself, why a seal? Having fun is in Smile and Learn's DNA. We believe that having fun is a fundamental part of learning, that's why we wanted our mascot to be a charming animal that made people smile. But in addition to that, seals are very smart! They are quick learners capable of doing amazing things. In fact, that's one of the biggest aspirations that we have at Smile and Learn: to bring education to all children so that they can learn and develop their skills
With that being said…what do we have to keep in mind when creating the perfect name for the Seal?
It has to be a simple, easy to comprehend name without a complicated spelling. Remember that our platform is used by children as young as 3 years old.
It should reflect the essence of our Seal.
Our Seal is a traveler, therefore we especially value a name that can be read in English and Spanish.
We will not accept any inappropriate sounding or offensive names.
How can I participate in the contest?
In order to participate, you need to fill out a form with your personal information and must propose a name for the Smile and Learn mascot (The Seal).
Participants will have until October 31st to fill out the form.
Once the contest is over, a jury composed of professionals from Smile and Learn will deliberate and choose the most original name or the name that most reflects the Seal's essence. At that moment, we will get in contact with the winner in order to send them a 200€ Amazon.com gift card. They will also receive a kit from Smile and Learn (bags and t-shirts) and a license for one year of free access to the platform.
The two finalists will also receive a kit from Smile and Learn (bags and t-shirts).
Smile and Learn reserves the right to use, if they wish, the names proposed in the contest as the name of their mascot, the Seal.
Without further ado…participate by filling out the form below!